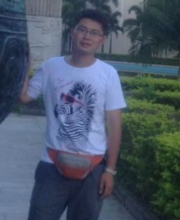 Jing Cai(蔡靖)
Ph.D., Peking University, China(2012-)
B.S., Jilin University, China (2008-2012)
Research Interests:Single Particle Aerosol Mass Spectrometer (SPAMS), Source Apportionment of Atmospheric Fine Particulate Matter.
Selected Publications
1.Cai, J., Zheng, M., Yan, C.Q., Fu, H.Y., Zhang, Y.J., Li, M., Zhou, Z., Zhang, Y.H., 2015. Application and Progress of Single Particle Aerosol Time-of-Flight Mass Spectrometry in Fine Particulate Matter Research. Chinese Journal of Analytical Chemistry 43, 765-774.
2.Cai,J., Wang, J.D., Zhang, Y.J., Tian, H.Z., Zhu, C.Y., Gross, D.G., Hu, M., Hao, J.M., He, K,B., Wang, S.X., Zheng, M., 2017. Source apportionment of Pb-containing particles in Beijing during January 2013. Environmental Pollution 226, 30-40.